Discover more from Primal Cut Sheet
Ideas, resources and insights on sourcing and cooking animal protein. New article published on the first of every month.
The dangers of mass-produced food
How convenience has created a dependence on a fragile supply chain
Most people in the US and beyond no longer make the effort to produce food for themselves. Instead they outsource their nourishment to the massive agricultural industry, which is driven by profit rather than quality1. And when quality is not the highest priority in the production of food, consumers can no longer expect to get the nutrients their bodies need – not just to survive but to thrive. 
We are overfed and undernourished.2
There are numerous reasons for our increasing dependence on corporate agriculture, but a major driving force has been the gradual detachment of consumers from the sources of their food (this topic could be a book unto itself, but we'll save that for another day). Quite simply, the further removed you are from the sources of your food, the greater the risks you face: over-processed foods laced with harmful ingredients and additives, price-gouging middlemen, supply chain disruptions, and dubious handling of ingredients throughout the chain of custody.
Reducing the number of links in the chain between you and your food sources is an important step in the right direction.
Growing or raising your own food obviously makes for the shortest chain, but for many that is a steep hurdle to tackle right away3. The next best option, in my opinion, is to establish direct connections with farmers in your surrounding area, in particular with farmers who are excited to share their practices openly with their customers. A good example is Farmer Joel of Abraham's Table Farm, who published weekly update videos about the various activities on his farm during the 2022 CSA season. In one of them, he outlined his farm's grazing practices and the role of ruminant animals as a integral element in its operation:
---
For most people, beef is a commodity that is taken for granted – it sits at the ready in supermarkets, packaged in plastic wrap or styrofoam (who knows for how long?). If you're lucky, you'll be given the name of a farm associated with the meat, but that usually happens only at upscale grocery stores or co-ops. And even when purchasing a seemingly better option like "organic, grass-fed ground beef'", the inputs will often be from hundreds of different animals flown in from far reaches of the planet.
At the end of the day, there is much more to know when buying meat than what meets your eye at the store.
What is the breed of the animal?

Have the animals been given supplements, hormones or antibiotics?

How long were they pastured? Were they ever confined in pens or warehouses?

How far is the butcher from the farm? What steps are taken to keep the animal relaxed and stress-free up until they are slaughtered?
It is unlikely that you will get answers to these questions from the person behind the butcher or deli counter at your local grocery store. Moreover, many of the farms and meat packers that supply the bulk orders for those stores would prefer that you not visit their operations, as they typically follow less than ideal business practices. Put simply, if a farmer doesn't want you to see their farm, you probably don't want to be buying meat from them. You need to be able to go to the source and create a connection with the people who actually care for the animals.
This approach does require more effort, as well as a better understanding of what to look for and what questions to ask. If this is something you are interested in learning more about, please subscribe and follow along as I share my learnings from pursuing this.
Each article will be published here, but you can subscribe to be notified via email when a new article goes live:
The Purpose of the Primal Cut Sheet
In the coming months, I will be sharing what I consider one of the best ways to improve your food sourcing and sovereignty - bulk purchasing beef directly from a local farmer. Some of the common questions that I will be addressing include:
What amount of beef should I purchase? How much freezer space do I need?

How do I find the right farmer? What questions should I be asking them?

What's the difference between grain-fed or grass-fed?4

How do I make the right choices when selecting my cuts of beef from the butcher?

Ok, I have all this meat - what are the best recipes for each cut?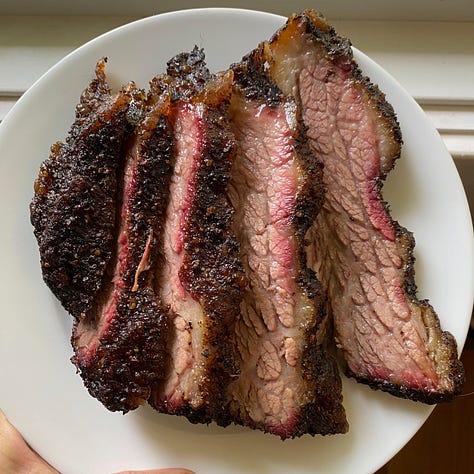 If you're looking to buy in bulk right away and looking for personalized assistance, I also offer 1:1 consultations to help you navigate your cut sheet or any other questions you might have:
3
While city living might make raising your own livestock challenging, starting with a small vegetable garden can be much more accessible. Dustin Powers shares some great insights on this Meat Mafia Podcast episode regarding more direct food sovereignty.
4
The answer is not as straight-forward as you might think. The next article in January will dive further into this discussion.