Discover more from Primal Cut Sheet
Ideas, resources and insights on sourcing and cooking animal protein. New article published on the first of every month.
Learning the Lingo
Deciphering the foreign language of a cut sheet
We have finally arrived at the namesake of this newsletter. At this point you should have confidence in finding the farmer or rancher you want to source from, and are now in communication with the butcher to discuss the butchering of your beef. In some instances the butcher will jump on a phone call with you to walk you through the choices, but in many instances they will have you fill out a standardized form and just use that to process your meat. No matter what, there will be a cut sheet involved, which is a template form they ask you to fill out to provide your choices to the butcher. 
Below are some examples of cut sheet that you might receive from your butcher: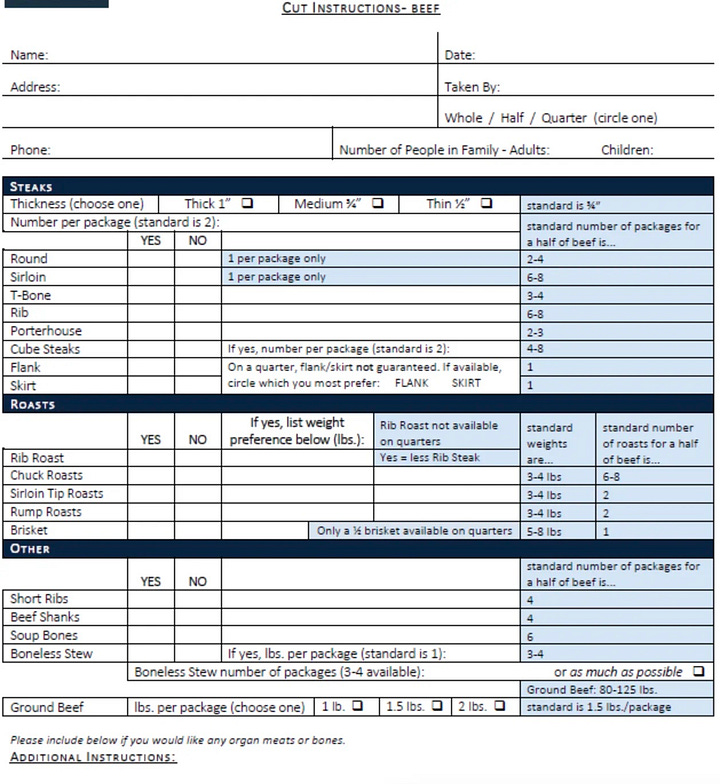 If you're overwhelmed by what you see, that's perfectly understandable. Cut sheets can often feel like a foreign language, and as should be evident there is no uniform approach. That said, they are all working with the same muscle groups found on a steer, so let's first talk through some of the questions that will be asked almost every time.
The Most Common Cut Sheet Questions
1. Do you want bone-in or boneless steaks?
The most well-known steaks you'll end up with from a half beef are from the rib and the loin section. If you select bone-in, you'll get porterhouse, t-bone and rib steaks. If you select boneless, you'll get new york strip, tenderloin and ribeye steaks. (Fun fact: the porterhouse steak is basically a new york strip and tenderloin combined by a t-shaped bone, more on this in the loin section of this chapter.) And as should be expected, your total take-home weight will be lower if you choose boneless.
2. How thick do you want your steaks cut?
Most butchers will offer choices between ¾" and 1½", but you can specify larger ones if you want. Thinner steaks can be challenging to get a good sear without undermining the desired doneness of the interior. Just know that thicker steaks will result in less individual steaks. 
3. How many steaks do you want per package?
The default is 2 steaks per package, but the choice here should be based on how many you normally will look to thaw out at once.
4. What size roasts would you like?
A standard 6-7 quart slow cooker will easily accommodate a 4-5 lbs. roast cut. Also, bear in mind that it is important to provide a weight range - if you ask for an explicit roast size, they may trim down to meet your request and the excess gets added to your ground meat trimmings.
5. How would you like your ground beef packaged?
In most instances, you'll be looking at 1 lb. individually packaged in a plastic sleeve (a.k.a the chub), however you may have options to do 2 lbs. or larger. Some butchers might charge per unit, so if you often will use 2 lbs. or more at a time that could be a great spot to save on cost. 
6. Do you want stew meat?
Stew meat refers to smaller lean cuts that were left over after trimming out other cuts from the side of beef. These will either be frozen together in batches to be used for stewing/braising, or you can forego this and the meat will just be added to what is used for your ground beef.
With those primary questions sorted, each butcher sheet will specify a cut of the animal and ask you how you would like to have it processed. In many instances, the choice will be between keeping a given cut in roast form, slicing into steaks or sending it to be included in the ground beef.
What follows is a summary of primal sections of beef and some of the cuts to request from each:1
Chuck
The chuck section offers some of the best flavor in the entire side of beef. Most often butchers will ask if you want the section cut into 3-5 pound roasts because it's the easiest option for them to do. There is also a nice amount of short ribs that come from the chuck primal. Other options you can ask for:
Flat iron steak - pulled from the top blade muscle of the chuck, it has become popular in recent years.

Denver steaks - cut from a long, flat muscle that runs along the underside of the chuck, these are very tender.

Teres major - this muscle comes from the side of the shoulder and is used to extend the arm.

Neck roasts - technically this is not part of the chuck, but is adjacent. The neck has incredibly tender meat and is great for slow braises.
Brisket
Brisket is the breast muscle and there's basically two major muscle muscles as part of the brisket. One is the fattier piece (the point), the other is the leaner section (the flat). A whole brisket is going to be usually in the range of 10 to 16 pounds, and so oftentimes people will split that. I recommend keeping it whole but that choice is up to you. If you do plan to smoke it, consider asking for "untrimmed" or "packer style", this will allow you to have more control over keeping the right amount of fat coverage.
Alternatively, you could ask to save the point, and then send the lean section to the pile of meat that will be used to make your ground beef. That way you have a smaller section that you could smoke on its own, and being the fattier it will hold up even better to the smoker.
Rib
The king of the primal cuts, this is where the your earlier decision on whether to have your steaks bone-in or boneless really starts to come into play. If you opt for boneless ribeye steaks, you can opt to have the back ribs kept whole, a really fun cut to smoke. I personally find tomahawk steaks to be extremely overrated, but some people enjoy the novelty of a massive bone coming off their bone-in rib steak.
Plate
The plate section is usually fabricated into short ribs, either english-style square cut or korean-style flanken ribs. This is also where the hanger steak, and the inside/outside skirt steaks are pulled from. Ask specifically for them, otherwise they'll end up in the ground beef.
Short Loin
Everyone knows the t-shaped bone, what they might not know is that one side is the NY strip steak, and the other side is the tenderloin. So if you go boneless, those would be your two options. Tenderloin starts thick and tapers off, the thicker part is where you get Porterhouse steaks. Once the tenderloin is below 1.25" wide, it can no longer be called a porterhouse and instead becomes a t-bone steak.
Sirloin
Some fun cuts come out of the sirloin primal, notably the sirloin steak, tri-tip, the flap steak and the picanha (a.k.a. the top sirloin cap). I will often send the remainder of sirloin to the grind
Round
Round is mostly quite tough and lean, making it great for jerky or beef tartare. While you can pull Santa Fe steaks and Sirloin Tip steaks from this primal, I opt to spare the butcher some effort on this section and send it all to the grinder, leaving them more willing to do a bit more work pulling out custom cuts from the other primals.
Shanks
Cross-cut shanks (a.k.a osso bucco) are incredible for braising, letting that marrow seep out into the broth. The other option would be to strip the meat off and have the bone sliced length-wise to end up with marrow boats. The downside for that is all that incredible shank meat will likely end up going to the grinder pile, but the texture of that meat when slow-cooked is some of the best on the entire side of beef.
Primal Cut Sheet is a reader-supported publication featuring ideas, resources, and insights on sourcing and cooking animal protein.
The above breakdown is by no means exhaustive, it's mostly intended to provide a brief introduction to all of the various sections of a side of beef. And just as there is no hard and fast rule on how butchers are supposed to structure their cut sheets, there is no one-size-fits-all for what each customer will want in terms of the processing of their meat purchase.
The Purpose of the Primal Cut Sheet
This is part of an ongoing monthly series that aims to provide you with all of the information you will need to start buying high-quality beef in bulk directly from a local producer. Future topics will include how to connect with your local producers, deciding between grain and grass-finished beef, and, finally, a full breakdown of a butcher's cut sheet to help you get the most value from your purchase.
If you're looking to buy in bulk right away and would like some personalized assistance, I also offer 1:1 consultations to help you navigate cut sheets or answer any other questions you might have:
By being a paid subscriber, you help support my efforts to bring most of this content to the public free of charge and free of advertisements. Thank you.